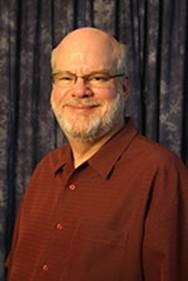 ARIZONA SOCIAL WORKER RECEIVES NATIONAL HONOR FROM COUNCIL OF NEPHROLOGY SOCIAL WORKERS
Local Board Member of the National Kidney Foundation of Arizona to receive a Lifetime Achievement Award
PHOENIX (April 6, 2016) – Local and longtime Banner University Medical Center Phoenix social worker Charlie Thomas, LCSW, ACSW, is to be honored by the Council of Nephrology Social Workers (CNSW) with the Robert W. Whitlock Lifetime Achievement Award. He will be recognized in April 2016 at the NKF Spring Clinical Meetings (CNSW Business Luncheon) in Boston.
This national award is named in honor of Robert W. Whitlock, MSSW, MHA, LCSW, Director of the Missouri Kidney Program (MoKP), a leader in the kidney community, who passed away in 2008. Bob was a dedicated nephrology social worker and an outstanding contributor to research, teaching, and clinical practice in nephrology social work.
"I was fortunate to know Bob before he died," says Thomas. "He was a passionate advocate for patients, families and dialysis and transplant social workers. I am very honored to receive this award named in his memory."
Thomas has been employed as a transplant social worker with Banner University Medical Center Phoenix since 1985 and was the Dialysis/Transplant Consultant for the Salt River Pima-Maricopa Indian Community 1998 to 2012.  He provides direct services to kidney, pancreas and liver transplant patients as well as living kidney and liver donors.  He also provides consultation regarding Chronic Kidney Disease including dialysis, transplantation and organ donation with American Indians.
Among the many organizations that Thomas is affiliated with, he has locally served the National Kidney Foundation of Arizona for over 28 years, serving on committees including Patient Services, the Southwest Nephrology Conference and others.
"We at the National Kidney Foundation of Arizona are honored and thrilled to see our long-standing board member, Charlie Thomas, receive such deserved national recognition for his contributions to the kidney community," says Jeffrey Neff, Chief Executive Officer of the National Kidney Foundation of Arizona. "His work in the service of kidney and liver patients, through his profession as well as his dedicated volunteer efforts, has impacted the lives of countless individuals and their families. He has devoted his life to improving the lives of those who are suffering; this is a tremendous and merited honor."
Thomas has also served with many other national and regional organizations, including: the American Society for Transplantation Public Policy Committee, the National Kidney Foundation Board of Directors while serving as national chairperson of the NKF Council of Nephrology Social Workers, the NKF Public Policy Task Force (which developed the NKF Public Policy Office in Washington, D.C.), the Medical Review Board of the Intermountain ESRD Network,  the United Network for Organ Sharing (UNOS) Patient Affairs Committee, the Task Force on Access to Transplantation and chairperson of the Social Work Advisory Task Force, the National Living Donor Consensus Conference, and the Arizona Coalition on Donation as President, among many others.  In 1999, Charlie was selected to serve as an expert advisor to the Institute of Medicine regarding the proposed Final Rule for the Organ Procurement and Transplant Network (OPTN). In 2000, Arizona Governor Jane Hull appointed Charlie to serve on the Governor's State Rehabilitation Council which advises the Arizona Vocational Rehabilitation Program.  He served as Chair of the Council from 2003-2005.  Charlie was active in advocating for the removal of health insurance as a barrier to returning to work for the disabled.
Thomas currently teaches Social Welfare Policy and Community Practice to graduate and undergraduate social work students at Arizona State University.  He has authored many articles and has presented at many national conferences and meetings.  
Thomas received his master of social work degrees from ASU in 1980 and his bachelor of arts in 1979 from San Diego State University where he graduated with Distinction in Social Welfare. He is a Licensed Clinical Social Worker (LCSW) in Arizona and a member of the National Association of Social Workers (NASW) Academy of Certified Social Workers (ACSW). 
About National Kidney Foundation of Arizona
The National Kidney Foundation of Arizona is a statewide non-profit foundation dedicated to providing education about Chronic Kidney Disease (CKD) and helping kidney disease sufferers overcome the medical, financial and logistical challenges of CKD.  In 2013, the Foundation commemorated its 50th anniversary of providing dynamic programs, direct patient support, kidney health initiatives and organ donation awareness.  For more information, call (602) 840-1644 or visit www.azkidney.org.
##