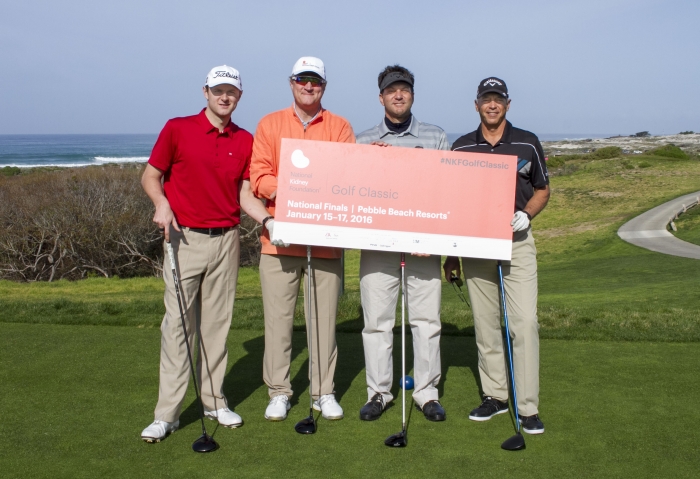 For Immediate Release 
Golfers Take Honors at National Kidney Foundation Golf Classic National Finals at Pebble Beach
PHOENIX (January 2016)– A foursome originating from the NKF Golf Classic Tucson, Arizona, bested the competition on the top courses of the Monterey Peninsula, January 15-17, 2016.
In the Handicap Index division, Joe Dufek of Scottsdale, AZ; Michael Dufek of Chicago, IL; Daniel Mezich, of Cardiff, CA; and Mark Upchurch of Rancho Peñasquitos, CA; finished in first place. Their team shot rounds of 57-56-62 for a three-day total of 175 in the tournament held at the legendary Pebble Beach Resorts. 
The foursome qualified for the National Finals with a top finish in the NKF Golf Classic in Tucson, Arizona, held at Sewailo Golf Club last March. This weekend, they competed against over 60 amateur golf teams from across the country. Teams played the fabled fairways and signature holes of the Monterey Peninsula: Pebble Beach Golf Links, Spyglass Hill Golf Course and The Links at Spanish Bay in the four-person scramble format event.
The National Kidney Foundation Golf Classic, a nationwide series of over 30 golf tournaments held in major cities across the country, is The Premier Amateur Golf Event for Charity, raising more than $3.5 million annually for NKF.
The next opportunity to qualify for the National Finals will be on April 29, 2016 at Sewailo Golf Club in Tucson, Arizona. To register or for more information, visit www.NKFGolfClassic.org. 
The NKF Golf Classic's national corporate partner is One Car One Difference. National promotional partners include PING, Golf Digest, The Greg Norman Collection, Anheuser-Busch and Tiffany & Co. The National Finals were also supported by HM Insurance Group. For more information about the NKF Golf Classic, visit www.NKFGolfClassic.org.